Advertsiment for Vacant Job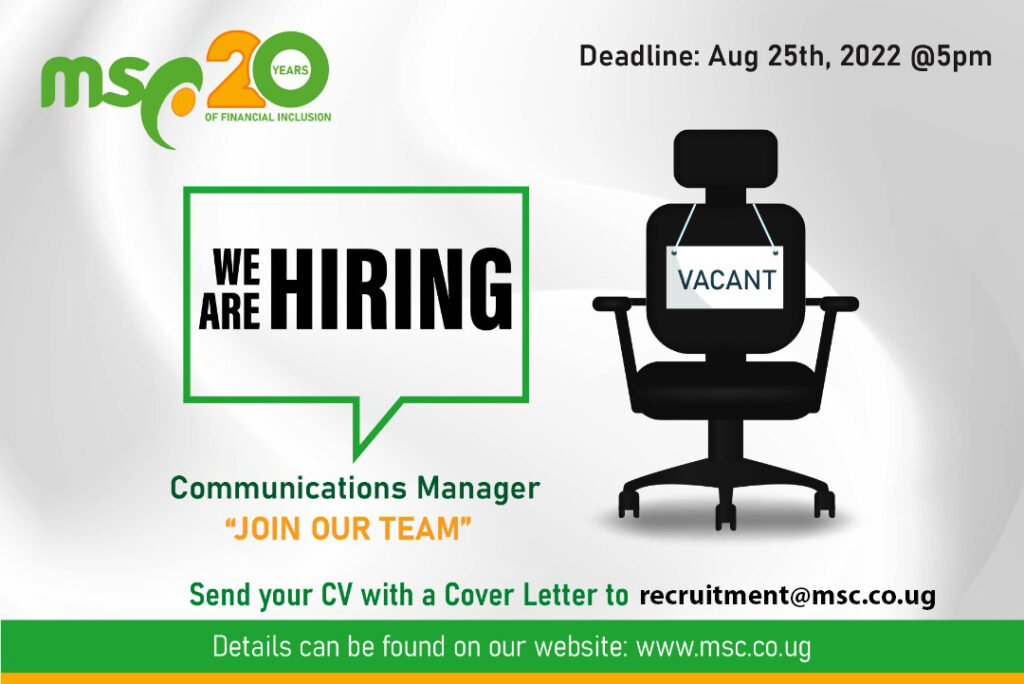 MSC seeks to recruit suitably qualified and highly skilled person with integrity, energy and a strong passion to create wealth and have real impact on the lives of Ugandans. MSC, therefore, wishes to fill the following vacant position in its establishment.
Position:  Communications Manager- Level 3
Reports to:  Executive Director
Purpose: To develop & implement MSC communication strategies, plans, and systems and evaluate their impact on the implementation of the MSC Strategic plan
Email your CV and cover letter  to: recruitment@msc.co.ug
Key Result areas;
Communication guidelines, processes, procedures and strategies developed;
An annual report compiled & shared with shareholders;
No. of public relations  issues addressed;
Information about MSC products &services is packed and shared with the public;
Communication Strategy developed;
Key Accountabilities /Key tasks:
Make proposals for the development of the Communication strategy and lead its implementation after its approval by the Board;
Act as MSC spokesperson in full consultation with the Executive Director;
Develop and manage media partnerships, particularly radios, print media, and TVs, to promote the image of the Company.
Manage community relations and corporate social responsibility focusing on public and community initiatives.
Plan, budget & Report for communication functions.
Compile the Company's Annual Report and documentaries on performance and critical success stories and share them with stakeholders.
Manage brand touch points and ensure feasibility and consistency.
Monitor and ensure production and distribution of the Company's communication assets and materials.
Manage the resource centre processes and activities.
Perform any other duties as assigned by superiors.
Qualifications and experience:
Honours degree from a recognized University / Institution in the following fields; Mass Communication, Public Relations, Social Studies or any other related discipline.
Master's degree from a recognized University / Institution in public relations, mass communications or any other related field.
Possession of relevant professional qualifications is an added advantage.
Eight (08) years of progressive working experience in a public relations, marketing or related field, with at least 4 of the years attained in middle-level Management.
Possession of relevant computer skills.
Competencies/Person Specifications:
Ability to manage others
Ability to demonstrate excellent interpersonal relationship skills
Ability to inspire, motivate and influence at all levels of partnerships.
Ability to demonstrate assertive behaviour, a creative, innovative& self-motivated person
Ability to demonstrate business acumen with the flexibility and creativity to achieve results, a person of Innovation and flexibility in marketing and PR
Ability to generate new ideas and solutions and develop creative approaches
Ability to work cooperatively with others and to be part of a team
Working Conditions:
This job entails one to spend long hours seated in an office environment.
Candidates with the requisite qualifications should send their applications with detailed Curriculum Vitae together with copies of certified academic certificates with at least 3 referees in properly sealed envelopes to the address given below clearly stating the job title applied for on the top right corner to be received not later than 25th August, at 05:00pm.
The MSC Ltd is an equal opportunity employer and is open to transparent recruitment processes. Any form of lobbying /canvassing for support will lead to disqualification of the concerned candidate.